Do you think Snapchat is ruling Augmented Reality filter ?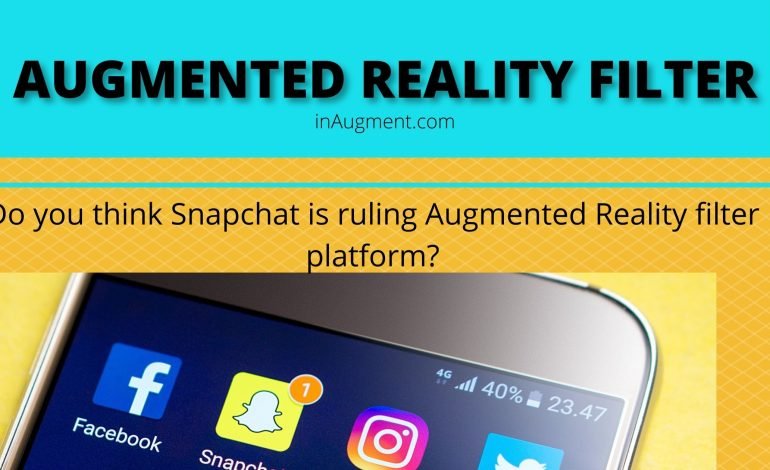 Do you think Snapchat is ruling the Augmented Reality filter platform?
Augmented Reality is in news most of the time during the major part of the years. The term has taken the market to a whole new level in terms of user experience engagement and profitability. From increasing brand engagement through Augmented Reality filter to offering a real-like experience to users at comfort on their couch, Augmented reality is thriving. The immersive technology has different use cases in multiple industries like Healthcare, oil and gas, retail, footwear, and so on. But, do you know, which company was the major contributor in the initial phase of this immersive technology?

Augmented Reality has been around since the 1990s. But back then it was limited to specific industries. In 2016, the technology saw its first breakthrough in the market. Those digital zombies that you enjoyed running after and catching is one of the first examples of Augmented Reality games. Simultaneously the other Company Snapchat stepped in and embraced this technology. How is Augmented Reality used in Snapchat?  Amazing filters that you enjoy using is the result of Augmented Reality. And yes, Snapchat was the major contributor in the initial phase of this immersive technology. In this article, we will have a detailed insight into the use of Augmented Reality in Snapchat
An acquaintance of Snapchat with Augmented Reality filters
Snapchat seems closer to Augmented Reality than any popular brand. Snapchat has plethoras of filters in the form of lenses, masks, and so on. Nearly  265 million daily active users enjoy using these filters. The filters that you see are made with Lens Studio. Lens Studio is a platform that enables AR filter creators to create real-time filters with the help of designs and graphics. The use of Snapchat is so immense that Robert peck – Suntrust analyst – says "  Snapchat is evolving beyond just ' another social media platform' and could be headed to be the first 'social augmented reality platform'.
Augmented Reality filters might look like an overnight success but the history goes back prior to 2015 when Snapchat created Lenses. In 2011, Snapchat was launched with the purpose to create short clips of multimedia messages that can be modified and shared. In 2015 the company acquired LookSery. LookSery was a Ukrainian Startup that had expertise in facial tracking and other high-end modification features for real-time videos. Snapchat Acquired Looksery and later introduced  Lenses. Lenses use Augmented Reality technology to embed 3D graphics in camera pictures. When Lenses was hit, the company 2017 develop an app called Lens Studio. Lens Studio is one of the most powerful tools used by creators and advertisers to execute their creativity. The company has been consistently updating and modifying Lens AR studio to offer a more immersive and Real-time experience.
Spark AR Studio and Lens studio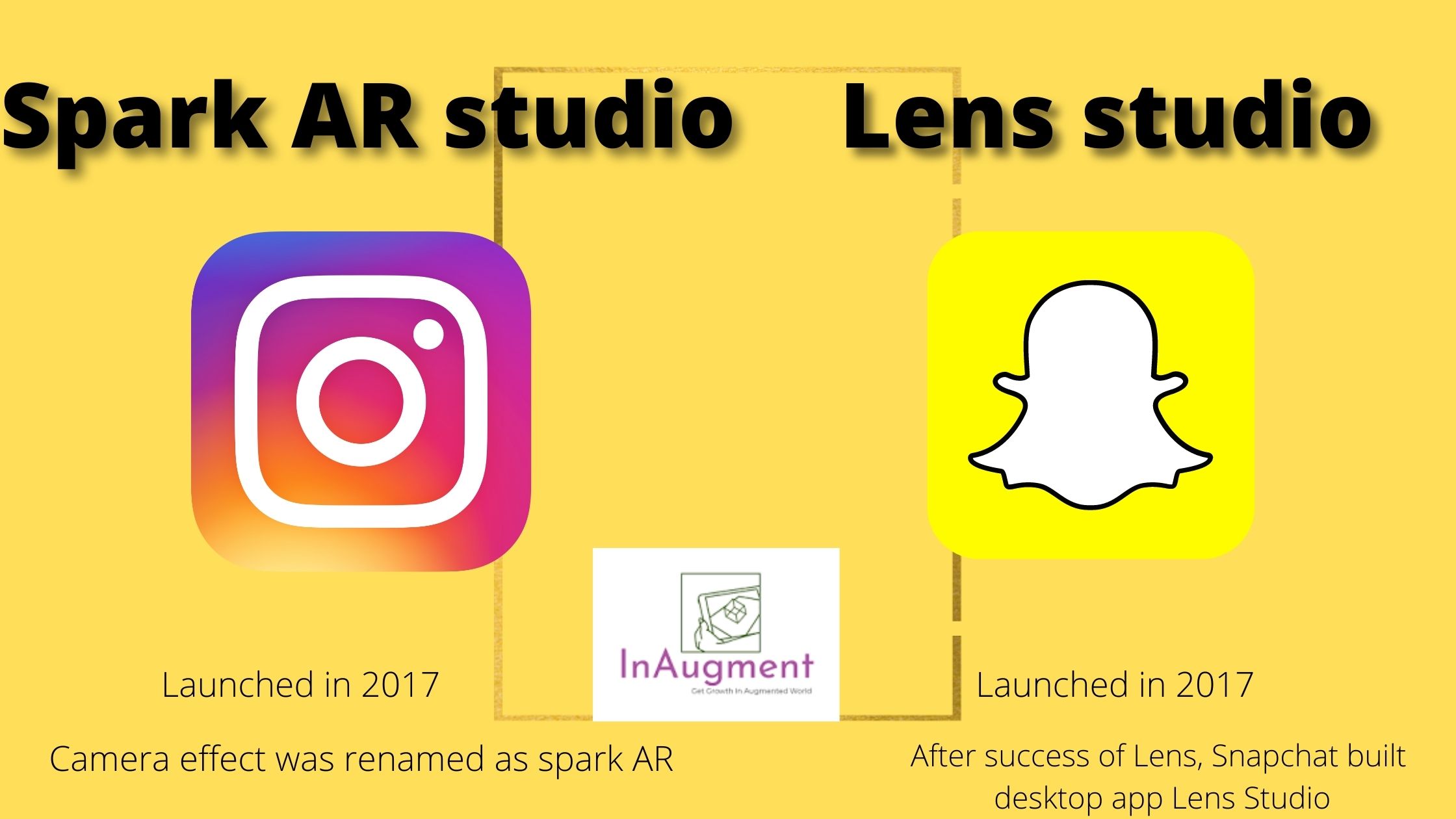 By now, we have a crisp insight into Lens Studio, let us know more about Spark AR studio.  Eventually, in 2017 Facebook launched its own Augmented Reality creating platform called camera effect which was renamed Spark AR. It gradually expanded to Instagram. Earlier only creators were allowed to create filters using Spark AR. To use those filters users had to follow these creators and this helped them gain a huge number of followers. From 2019, anyone interested can create filters using Spark AR. This spiked the use of AR as any business trying to gain traction can use Spark AR to create filters and advertise their product or service.
Read more: If you want to know more about Spark AR studio and how it is adding value to businesses you can read here.
And also: I created my AR filter with Spark AR, which you can create as well. Read here to know how to create and bring your vision into reality.
Recent updates in Snapchat Augmented Reality filter:
Snapchat Augmented Filter has goofed users for a long time. Users love interacting with those 3D computer-generated graphics imposed over the real environment on cameras.  Let's see What's new in store:
·         Len's voice search:
The objective behind this feature is to make it work as an Alexa. Due to nearly millions of Lenses, it is arduous for users to swipe and select the desired lenses. With the introduction of this feature, you will have to just speak, and whoa the lens is on your screen. It will immensely accelerate the discoverability of lenses. It has great potential in the advertisement and marketing industry as well.
·         World mapping:
 
(source)
The company is working on a project that will enable users to share Augmented reality filters with friends within the same location. The company will use Landmarker to execute the vision. You can create unique lens experiences at selected locations around the world. Landmarker tracks specified physical location's landmark. But how will the company create 3D data for all such landmarks? Well, the company is trying to collect users' 3D data and will modify it.
Snapchat is on the way to compete with AR glasses present on the plate. In Lens Fest developer summit held in 2020 Snapchat announced "a $3.5 million AR creation fund for 2021".
As per Sophia Dominguez, Snapchat's new head of camera platform partnership "I think 2021 is going to be one of those years in which we evolve augmented reality out of this pure communication or social media use case, into things that can actually make our lives better in a much broader way". The company is spreading the full potential of lenses and the stats show more than a million Snapchat AR lenses are viral.
What's new?

(source)
Reports reveal, ShareChat's Moj- a short video platform- has partnered with a snap. The company can integrate the Snapchat camera into its product with the help of Camera Kit software. The camera kit enables the developer to integrate the Snapchat camera into the app. Now creators can take their creativity to a whole new level. Gaurav Mishra, Senior Vice President of Product at ShareChat says, "The newly launched collection of 30 lenses will give our community a never seen before social experience and make content creation and Moj a whole lot more fun".
Well, the Augmented Reality filter is getting significant exposure!