Best Augmented Reality Apps in 2020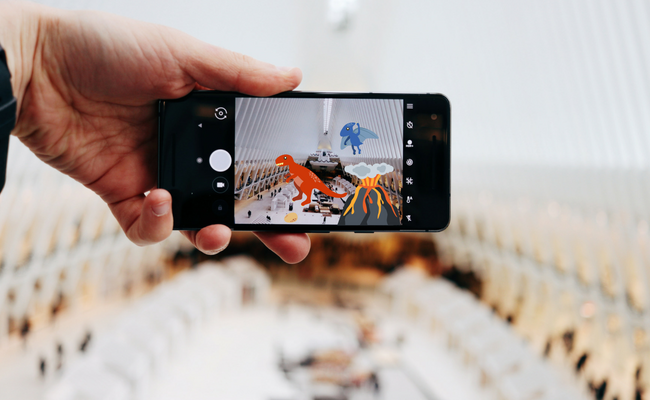 Augmented Reality (AR) apps in 2020 mean business. Having shed their entertainment only tag, the best augmented reality apps are making a splash in the real world of ecommerce, healthcare, logistics, manufacturing, education, architecture, robotics and much more. Simply put, augmented reality works towards adding extra layers of digital information to a real image or a video to the extent of blurring the difference between the real world and the virtual world. How will a particular pair of shoes look on me or how well will a piece of home décor actually go with the existing furniture in my living room? The opportunities and questions are endless but fortunately the best augmented reality apps are coming up with answers coupled with an amazing experience.
The integration of artificial intelligence (AI) with augmented reality has enabled the creation of futuristic apps which label and identify objects in the viewer's visual point of view. Google's ARCore and Apple's ARKit have boosted the usage and functionalities of AR apps across all industry segments. A simple smart phone camera is enough to give the user a taste of augmented reality with the latest AR apps. At its current rate of expansion, AR apps are looking at a $215 billion market in 2021. Is it finally time to integrate AR apps into your business expansion plans in 2020?
Let's have a look at the best augmented reality apps which have successfully transformed their business delivery model with the incorporation of AR technology.
1. HOUZZ
Houzz is easily one of the premier augmented reality apps by sheer virtue of the value addition it has brought to designing and improving of homes. Primarily a home improvement app, Houzz has redefined planning for interior designing and layouts with virtual visualizations of in-store home décor products directly in your living rooms. The "View in My Room" feature combines AR with 3D technology to produce visually stunning lifelike experiences of various products set in your rooms under variable lighting conditions. With over 20 million styles to shuffle across, the users are easily served their exact pick.
Standout features:
Sketch feature to edit and draw on photos directly.
Virtually visualize home décor in your room and shop accordingly.
Collaborate with over 2.5 million professionals for your home project, directly from the app.
Search for products and furniture and place an order using its ecommerce functionality.
2. YouCam Makeup
With this AR app, shopping for those elusive perfect match cosmetics is no more dependent on the laws of probabilities. YouCam Makeup incorporates the most advanced facial mapping technology for a true-to-life virtual makeover. Users can test makeup from tons of International beauty brands in typical selfie lighting conditions. No more worries about getting tricked by fluorescent lighting conditions in makeup counters.
Standout features:
AR and AI enabled technology to enhance makeup and beauty experience.
Facial recognition, skin tone analysis and texture matching ensures best match scenario for branded beauty products.
A complete journey from virtually trying out beauty products in real time to shopping for them with a single click.
Click digitally retouched selfies using face concealer, tooth whitener, facial shape adjustment, fine tuning of nose shapes, eye enlargement and much more.
3. Google Lens
Open. Shoot. Search. It is that simple. Gone are the days when you wasted valuable time crunching over exact keywords to get the desired result in Google. Instead of text based queries, a simple click on Google Lens will identify objects; provide additional information about texts present and even store important numbers. If the object is available for sale online, Google lens will also aid you in making a quick purchase. It is a cutting-edge combination of an ordinary smart phone camera with advanced AI capabilities for amazing visual results.
Standout features:
Word translation involves a simple focus, tap and copy.
Package tracking gets simplified with a simple click of the shipping details which directly opens the tracking URL page.
Business cards can be directly scanned and saved to contacts along with an instant display of Google business listing.
Search what you see with simplified visual search queries.
4. Wonderscope
Imagine a world of stories where the characters play out in your living room and interact with you in real time. This award winning story telling app has transformed the world of storytelling, letting you be a part of the story itself.
Standout features:
Storybooks come alive letting you be a part of the story itself.
Talk to characters, hear them answer you back and help them solve problems.
Watch the story unfold in your room or outdoors.
5. Sun Surveyor
Are you a photographer or a filmmaker looking for that one perfect shot in natural lighting conditions? Sun Surveyor is easily the best augmented reality app which predicts the best location receiving natural light from any source in the galaxy, moon or even the Milky Way. It works with a live camera in association with interactive maps, 3D compass and the minutest of details on light sources. It effectively helps photographers plan their shoot with accurate predictions on the golden hour, blue hour, sunrise and sunset.
Standout features:
Accurately predict the location and pathway of sun and moon with augmented reality projections.
Generate sun shadow information at precise shoot locations
Street view panoramas with pathways of sun and moon overlaid
Prepare for night photography shoots with features of star trails and milky way
Accurate estimation of quality and quantity of sunlight at remote locations.
If you are managing a business in 2020, client engagement, experience and satisfaction are the major buzzwords for growth and expansion. The global audience today prefers one tap applications to interact with businesses as compared to websites. Augmented Reality offers a unique experience to the smart generation of consumers who prefer to be pampered with something more than the usual offering. It makes your audience feel special, resulting in a better client retention and brand recall value. Unlock your business prospects and enhance your revenues by offering your clients an experience to remember your brand for.