Best 10 IOS ArKit Apps That You Bet Have Missed From Using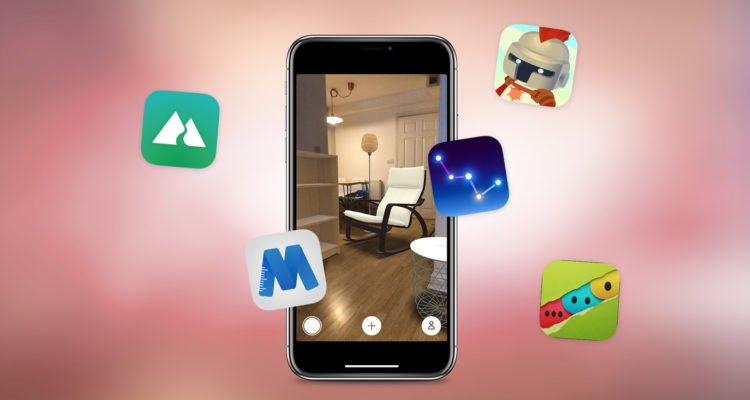 ARKit is Apple's framework for developing augmented reality apps. It allows developers to easily build augmented reality apps for iOS devices, including the iPhone and iPad.
Apple introduced it in 2017 along with iOS 11, and has also released a second version, ARKit 2, which came with iOS 12. A third version is also expected soon with iOS 13.
The ARKit is similar to Google's ARCore, which works for Android phones. With it, developers have been able to create many apps that deliver augmented reality experiences to iOS users.
If you have an iPhone 6S or later models, or an iPad that runs on iOS 11 or 12, that means you can experience the world of augmented reality through your device.
Augmented reality presents to us new and interesting ways of interacting with our world and the objects around us. There are just so many things you can do with it, from measuring objects to finding your way around places, playing games set in your immediate environment, or even trying out furniture items before you buy them.
If you haven't tried out any augmented reality app yet using your iPhone or iPad, then it's time to have a feel of the fun and exciting experience that AR brings. And if you're wondering where to start from, we've compiled a list of 10 ARKit apps that you shouldn't miss.
When shopping for furniture items, one of your major concerns would be to get what fits best into each space. IKEA Place takes care of that. With this AR app, you can try out any furniture that catches your interest and see how it would look and fit wherever you want to place it. While you capture your space through the device's camera, the app places 3D models of furniture products where your camera is pointing to, and you can move these models around to different places.
Even if you're not ready to buy any furniture, you should check the app out and have fun trying out different products in your home.
You don't need to have a measuring tape or ruler with you before you can take measurements. With augmented reality you can measure various objects by just moving your phone over them, and that is what AirMeasure does. With this app, you can measure objects, buildings, distances, and even people. Yes, you can measure someone's height using AirMeasure.
The app provides you with an on-screen ruler for measuring smaller objects. There are other tools for measuring heights, the distance between two points, angles, floor plan, etc.
If you're fascinated about the constellations and love to attempt identifying whatever you see up in the sky, then Sky Guide is the app for you. It is an AR app that can help you learn about the sky. The app features a catalog of up to 2.5 million stars and hundreds of satellites that you can track and identify. It is available on iPhone, iPad and Apple Watch.
4. American Airlines
American Airlines created an AR app that helps users find their way around airports, which are usually crowded and busy. If you want to find a restroom or locate the check-in desk, or the departing gate, the app will overlay directions on your device, showing you exactly how to move, so you won't wander and get lost.
MeasureKit is another AR app that allows you to measure objects using the camera of your iPhone or iPad. It features a free ruler for measuring straight lines. The other features are available when you upgrade. You will be able to measure angles, people's height, and even the magnetic field force around your device.
How about playing with Dinosaurs and monsters wherever you are, and carrying them along with you as take a walk at the park? This app will fill your world with well-detailed creatures that you can play with or even take photos with and surprise your friends. It also allows you to design how your dinosaur will look, change the size of the creature and turn it to whatever direction you choose.
GIFs are fun to use, and Giphy World decided to take it a little further with augmented reality using ARKit. With this app, you can explore a large collection of GIFs, add them to your environment and share with your friends. You can also do a video of whatever you've created and share with others.
This works similarly to the IKEA Place app since you can use it to arrange furniture in your home and see how they look. However, the app is not for shopping; it was built to help you plan your space. With the app, you can move items around, resize them to know the perfect size that for a particular space.
Piano 3D is a very popular piano learning app on the App Store. The app presents users with an opportunity to learn and sharpen their piano skills, and also to compose music which can be shared to other apps (like Facebook, YouTube, etc). It features different piano instruments, a growing database of user-generated songs, ability to connect your midi keyboard, and more. If you love the piano, you should explore this app.
This app allows you to build your own train set and when you're done, get on the ride. You can build tracks, decorate the train, and drive through your creation. Augmented reality makes the experience more immersing and brings it to your environment.
References: