Augmented Reality in Surgery-first holographically navigated spine surgery
Augmented Reality in Surgery-first holographically navigated spine surgery!
The article gives you an insight into Augmented Reality in surgery. It was an important day for Surgeons at Balgrist University Hospital. A team of surgeons was doing spine surgery. Surgeons doing surgery is not uncommon but what drew my attention was principal Surgeon Prof. Dr. med. Mazda Farshad wearing HoloLens during surgery.  If you are new to the term HoloLens, you can know about HoloLens here. In Brief, HoloLens is a tool developed by Microsoft that offers an augmented take on the real world. Books used to be and will continue to be my best friend, but it seems AR tools are giving tough competition. AR tools such as Head Mounted Displays (HMDs), Head-up displays (HUDs) have become a surgeon's best friend. What does a friend do? A friend assists you, make your task easier, the same role HMDs and HUDs play for the surgeon to navigate Augmented Reality in surgery.
Augmented Reality has come a long way and a lot is yet to cover. Tech giants like Microsoft, Apple, Google are quick to embrace this innovative technology and invest in it. Now and then we can see  AR reshaping different industries. AR has immensely impacted different industries like Retail, healthcare, education, defense, the oil and gas industry, and much more.AR tools increase the reach and enhance the experience. Augmented Reality Glasses are high in demand.
Microsoft aims the use of HoloLens in diverse fields such as Data analysis, design, standard computing, gaming, and medical imaging. Not only this but the Company believes HoloLens will inspire new AR experiences. In this article, we will see how HoloLens has successfully completed its surgery project. The official page says "A team at Balgrist University Hospital successfully completed the first holographically navigated spine surgery. This surgery is a part of a randomized clinical study which is the first of its kind in the world." The technology was developed at University itself, Microsoft is the technology partner of the project.
Know more about this next-gen surgery: How? Whom? What?
·         Balgrist University Hospital Balgrist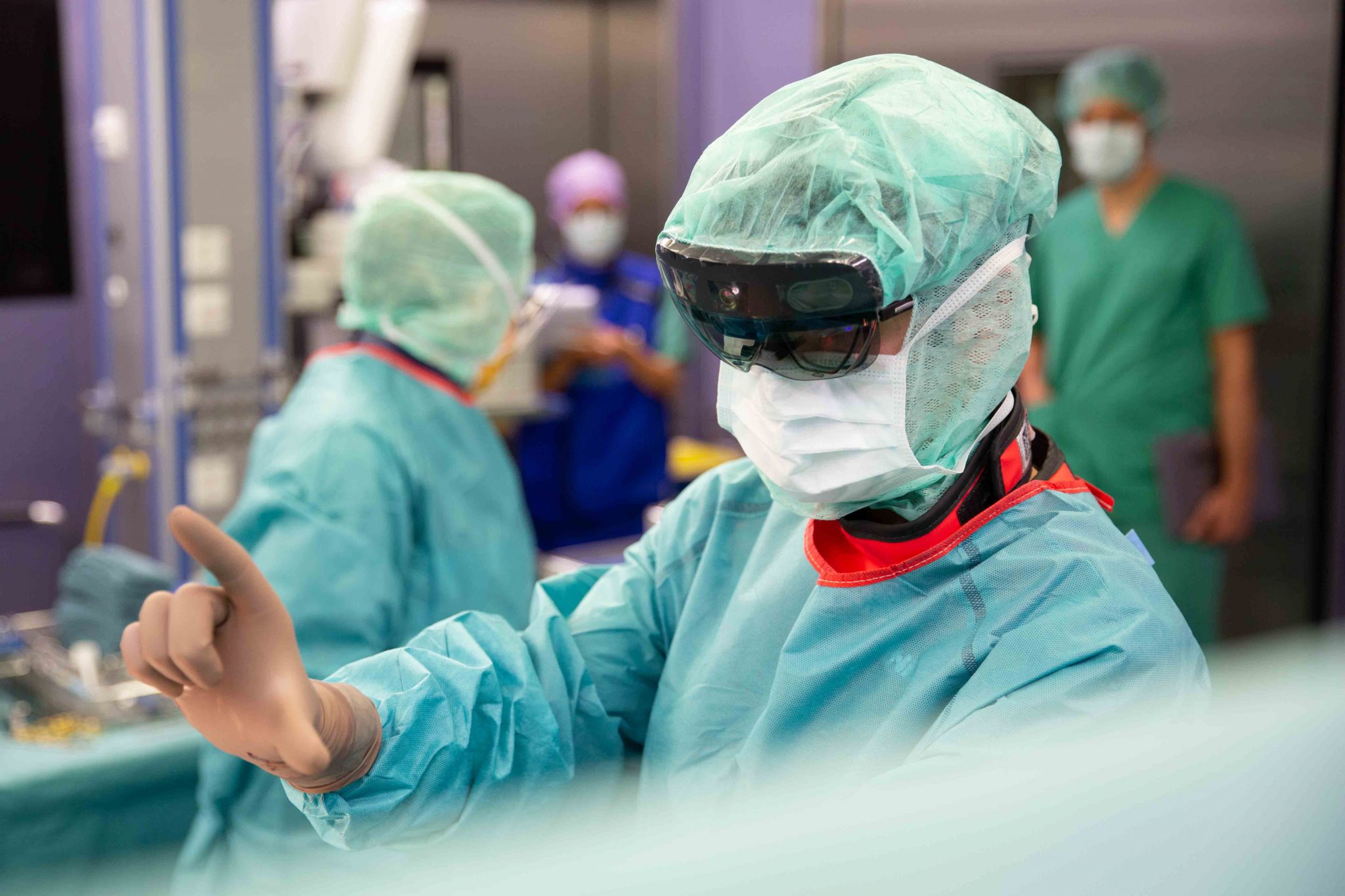 (source)
Balgrist University Hospital is well recognized for orthopedics, Musculoskeletal System, Physical medicine, radiology, Rheumatology, neuro-urology, anaesthesiology, and sports medicine. The hospital specialized in the diagnosis, work-up, treatment, and follow-up care in any of the above ailment. The Holographic navigated spine surgery was done on a patient suffering from lower lumbar spine degeneration.  The ailment caused strong pain and sensory disorders in the leg of the patient. The patient says " Regarding some of the pictures, I am fascinated that something like that is possible. Therefore I am very proud to be the first patient in line".
·         The world's first holographically navigated spine surgery – Augmented Reality in surgery:
The surgery was performed by a team of surgeons led by Prof. Dr. Med. Mazda Farshad, Surgeon in chief and spine surgeon, in the initial days of December 2020. The surgeon in chief successfully carried out the surgery using  AR glasses i.e, HoloLens 2.  And this marks the world's first real holographically navigated spine surgery.
·         How HoloLens helped surgeons?


Augmented Reality assists the surgeon throughout the surgery. The professor Dr, Med. Mazda Farshad, Surgeon in Chief at Balgrist University Hospital says " Augmented Reality enhances the surgeon's senses and improves their perception". The affected part of the human body can be minutely visualized using Augmented Reality without performing cuts prior to surgery. The CT imaging is used to generate a 3D view of the affected part and is projected into a surgical field that overlays the real anatomy during the operation.
Augmented Reality not only helps to clearly see the 3D anatomy of the patient but also guides in the critical step of the surgery. The 3D view helps o easily identify the exact insertion point of medical equipment. The technology minimizes the risk of any error. The co-director of surgeon quoted " The collaboration between visionary medical professionals like Mazda Farshad with the University of Zurich and the ETH is a unique opportunity and forms the basis of the success".
Microsoft denotes HoloLens as Mixed Reality. Professor Marc Pollefeys leads the Microsoft side of the project and is elated at the success of the project. Prof. Marc Pollefeys is a professor at the Institute for Visual Computing at the ETH Zurich and Head of the Microsoft Mixed Reality and AI Lab in Zurich says " Prof. Harshad and the team are using our HoloLens exactly as we always imagined: A technology that enables people – in this case, a doctor – to operate more precisely, faster and safer. We are very proud of this great success of the team and hope to move on to the next phase of the study soon". 
What we can expect in near future?
The spine surgery using HoloLens was successfully completed. We can expect more use of Augmented Reality in surgery. AR glasses have been of great help in spine surgery and soon we can see AR glasses making orthopedic surgery easier, more efficient, and safer for patients. Medical imagining has evolved a lot and more and more healthcare universities and hospitals are embracing immersive technology. Augmented reality-assisted surgery and Virtual Reality are reshaping the healthcare sector. Some prominent companies using Augmented Reality in surgery are Proprio based in Seattle, Washington- the company integrated machine Learning and AR to generate fine 3D medical images; Immersivetouch based in Chicago, Illinois; Truevision and Exhopixel based in California and many more.
HoloLens can accurately show patients' affected parts and guide them throughout the surgery. Doctors will have all information right in front of them. Apart from HMDs, 3d visualization and augmented reality for surgery are highly useful in healthcare services, AR tools are being used to improve the training and assessment skills of medical students.
Wrapping up:
Augmented Reality in surgery has a wide approach that ensures safer treatment. The need for Augmented reality in medical field has remarkably increased, with no signs of slowing down. The world's first holographically navigated spine surgery has been successfully completed at Balgrist University Hospital, Balgrist. I would love to know what are your opinions on the benefits of Augmented Reality in surgery.
Reference: https://news.microsoft.com/de-ch/2020/12/11/hololens-in-surgery/