How Augmented Reality Business Cards Work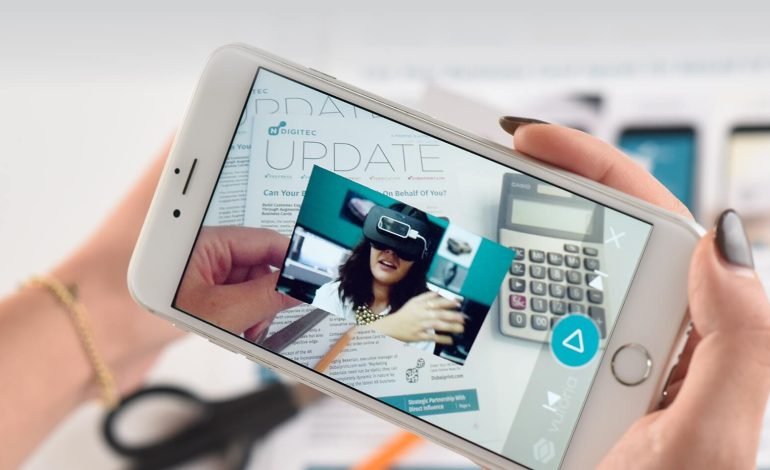 Augmented reality is one of such technologies that have come to enhance our current reality. As with every innovation, we will continue to explore different ways of putting it into use. This time, we want to see how augmented reality can help our business and marketing drive, focusing on business cards. Have you heard of augmented reality business cards? Do you know how it works?
A Little About Business Cards
The use of business cards has been one of the oldest marketing strategies that have continued to be useful until this age. A business card in its simplest form is a card that contains information about a person or an organization.
Such basic things as the name of the company (and/or name of the bearer), company addresses, phone numbers, email addresses and website, had their place in the business card. And as the use of social media has become a critical part of the modern-day business, it has also become necessary to have social media handles on business cards.
Some would go as far as containing a summary listing of services offered by the business. For branding purposes, business cards have to bear the logo of the holder's company.
Business Cards Centuries Ago
According to Convey, the modern day business card can be traced to the "visiting cards" used in 15th century China. They were used by wealthy businessmen "to announce their intention to meet with another individual."
Other historic accounts point to 17th century Europe as when the "visiting cards" saw a massive use among the social elite, while from London came the rise of "trade cards" which provided maps and directions to places of business.
The purpose and use of these cards evolved from then, and so did the design. And unto the industrial era, with the rise of the middle class, they became more of an essential tool instead of just some social formality for the elite.
Why Business Cards Are Still Inevitable
As old and sometimes archaic as the concept of the business card may sound, the underlying idea behind it is one that cannot be done away with. So, we keep finding more ways to evolve the business card.
Here are some basic reasons why the business card is still necessary
Readily share your contact details.
When in a social gathering and meeting different people without much conversations or future hope of having something to do together, it is easier to leave your business card than going through the process of exchanging contact.
Easily introduce your business
Your business card easily presents your business without you having to say a lot. So, while there may not be room to tell all the people you meet about what you do, only two seconds are enough to hand them your business card and let it do the talking.
Leave people with a reminder
In a gathering, one can meet and speak with a lot of people, making it hard to remember the details of all the introductions that were made. A business will remind those you meet about you much later, and it could be at a time when they need your services.
Apart from sharing your business card yourself, you can also leave them with loyal customers, friends and family, who would readily hand them over to anyone they feel would need your services. You can drop them in offices, restaurants, and other public spots.
Augmented Reality Comes Into The Scene
As mentioned earlier, augmented reality comes to enhance our real world objects and environments, not to replace them. So, with this technology, we now have augmented reality business cards.
One of the core things that augmented reality business cards bring to the table is the ability to expand the information contained in your business card without needing to make it larger or crowd it with many things.
How It Works
Augmented reality apps work using real world objects that get superimposed with digital information when a user points a camera at them. These objects are called markers, and they trigger some reactions when recognized.
So, to achieve an augmented reality business card, certain things are needed:
A marker: This is embedded in the card, and can be done through your logo. It just needs to be recognised by whatever device is used to scan the card.
A camera, scanner or object recognition device that is able to scan the card
An AR app or card reader app that will recognize the marker and convey the extended information in return
With a card designed for this, a user would have to launch a card-reader app on their device, scan the card using the device camera, and they will see the extra information.
This could allow a card holder easily do more things, like visit a website for more information, call the card owner, send an email, check their social media profiles, etc.
To create an augmented reality business card, you need to find the right tool for it. Several AR companies online are offering such services to allow users create their AR experiences, including AR business cards. Examples of such are Quytech, Augmania.
When you decide which tool/platform to use, you can generate a QR code, or set an image that will serve as the marker (any image will work, provided there is a sharp contrast between it and the background color/design of the card for easy recognition).
Next is to set up all the digital information you want to be displayed when the marker is scanned. This can include your contact information as well as calls to action (CTAs) with links attached to them.
Print your card and that's it.
Living in the digital age has not been able to eradicate the use of business cards. As technologies evolve, we will only see advanced ways to design and use this great marketing tool.
References: