Augmented Reality For Star Gazers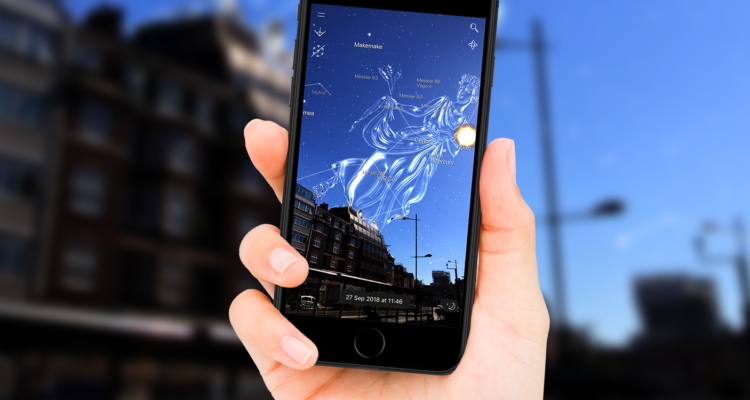 There are several augmented reality applications available for iOS (and Android) that will help you pinpoint the location of star, planets, and satellites. But generally, once you get past locating an object using the camera they can be pretty shallow offering you little more than naming that bright dot you happen to be pointing at. There are of course a few applications that follow Augmented Planets, three fundamental laws of AR.
An application must not use augmented reality for the sake of using augmented reality

AR must not be the entire purpose of an application

AR must  extend an already good app and provide some real benefit for the user
The latest version of Star Walk (6.0) not only provides AR functionality but also astronomy information on everything you are likely to see in the sky. Once you locate it, you can learn more about it in the gallery as well as browse a database of related pictures. One of the new AR features is the sunrise effect which shows where the sun will rise. Check out the video below as it looks pretty impressive.
Star Walk 6.0 
He full list of features include:
Star Spotter – real-time motion tracking tells you what stars are above you in the sky;
Satellites Tracking – never miss ISS flying over your head again;
Time Machine – see what the sky looks like at any moment in the past or future;
Calendar of Celestial Events: plan stargazing without leaving your favorite app.
Picture of the Day – stunning pictures from deep space;
Night Mode – preserve your dark vision to see more stars;
Search – wondering where Jupiter is right now? Arrow will guide you to it;
Big Screen – connect a second display to view the sky on a big screen.
+ AirPrint, Moon Phases, Info, View from any location, TelRad, Sharing, Bookmarks, and more!
If you are into Astronomy then take a look at Star Walk which can be found here:
The price is $2.99/1.99 and the app has 4.5 stars. Pretty impressive for an app with so many reviews