Augmented Reality at Event- in-depth information and mind-blowing ideas 2021
Augmented Reality offers a huge scope in digital events. Augmented Reality at event transforms the way we see digital events. The pandemic has pushed us to embrace digital events. As much I enjoy attending events, I somehow ended up feeling digital events are monotonous. But, not anymore! Augmented Reality at event offers a lot of space for creativity and immersive interaction. I came across the use of Augmented Reality in events while the launch of one plus Nord, what about you? If you are new to the AR world, hey, refer to this article to know what is Augmented Reality.
This hottest technology makes the digital event, fun, immersive, quirky and interactive. First, let us see how organizers are using Augmented Reality at event and then we will proceed to impressive examples.
How organizers are using Augmented Reality at event:
·         Making the meet interactive:
Organizers, on a large scale, use Augmented Reality at events to make the meeting interactive. It helps attendees feel like a part of the ongoing event. People are able to participate in real-time events with a fresh experience using AR.
·         Offers immersive digital view:
It makes viewers sitting at home, feel like being part of the event. The phone takes the user to an augmented world, where they can have an immersive experience.
·         Event marketing:
In the case of product-based business, manufacturing – operation – sales and marketing-comprises of the maximum workflow. Augmented Reality is useful at each step. In service-based business Augmented Reality plays a crucial role in marketing and branding.
   Real-life experience & showcase products in action:
Augmented Reality helps the audience get real-life experience. Organizers entice the audience or prospects by showing how the products works and their real-time benefits.
Benefits of using Augmented Reality at events: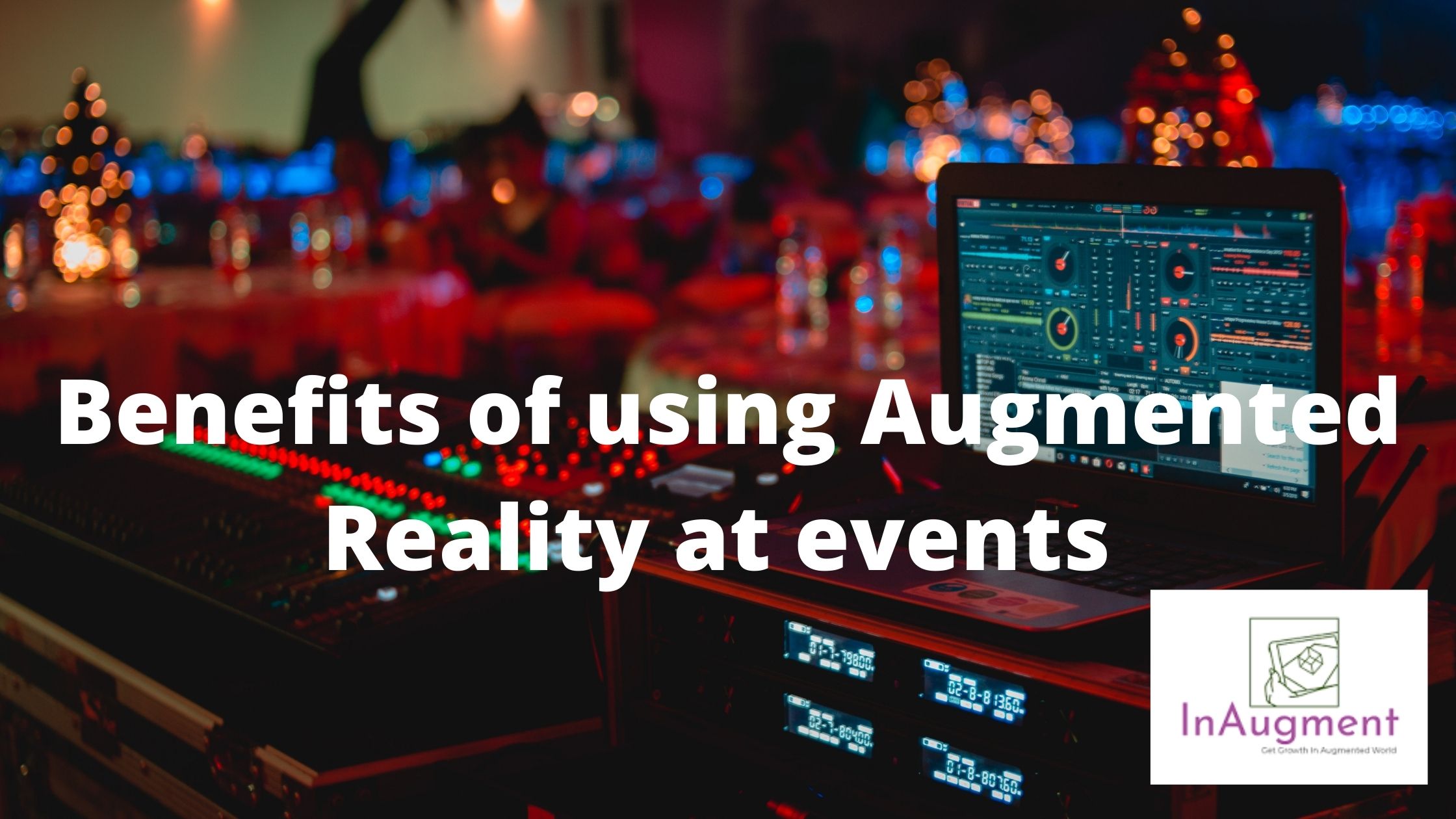 ·         Boosting engagement:
Augmented Reality at event increases engagement by 100x. People can interact, take part in games, know about the event in a real-like environment. Augmented Reality helps viewers get immersed in the ongoing event.
·         Easy Visualization:
It enhances visualization. Given the pandemic, where a physical visit is prohibited, companies seek online events. A usual 2D video format might not keep users engaged, but an augmented 3D visualization does.
Also Read: How can you select your favourite lipstick shade using AR.
·         Triggers emotional connection:
People are able to relate more to the ongoing event when they feel like a part of the vent. Augmented Reality helps the user get a real-like feel.
·         Increases sales:
Research says, most people buy products due to emotional value, not because of the feature of the product. For example, suppose you are purchasing a table, a simple launch shows the table and tells you its features, on the other hand, an augment launch places the table in your home, let you visualize the feature and help you see how it exactly looks at your place. Which is more effective? Emotional attachment help to increase sales.
·         Navigate the venue:
Augmented Reality helps to navigate the venue beforehand. The technology helps users to explore each part of the venue. You just have to click on the link and you will be able to go through the entire building. The 3D view gives no less experience than the real- view.
·         Unique User experience:
User can find themselves immersed in the show. Personal participation results in a unique user experience. The use of Augmented Reality at events tremendously increases the attractiveness. Users are fascinated by the new technology.
·         Competitive edge:
Technology is yet to find its place in many companies. The early birds get the competitive edge. People are fascinated by technology and its usage. Companies that are embracing Augmented Reality during their product launch garners more attention than usual. Below are the examples of companies that have used Augmented Reality at event.
Some of the immersive examples of Augmented Reality at event: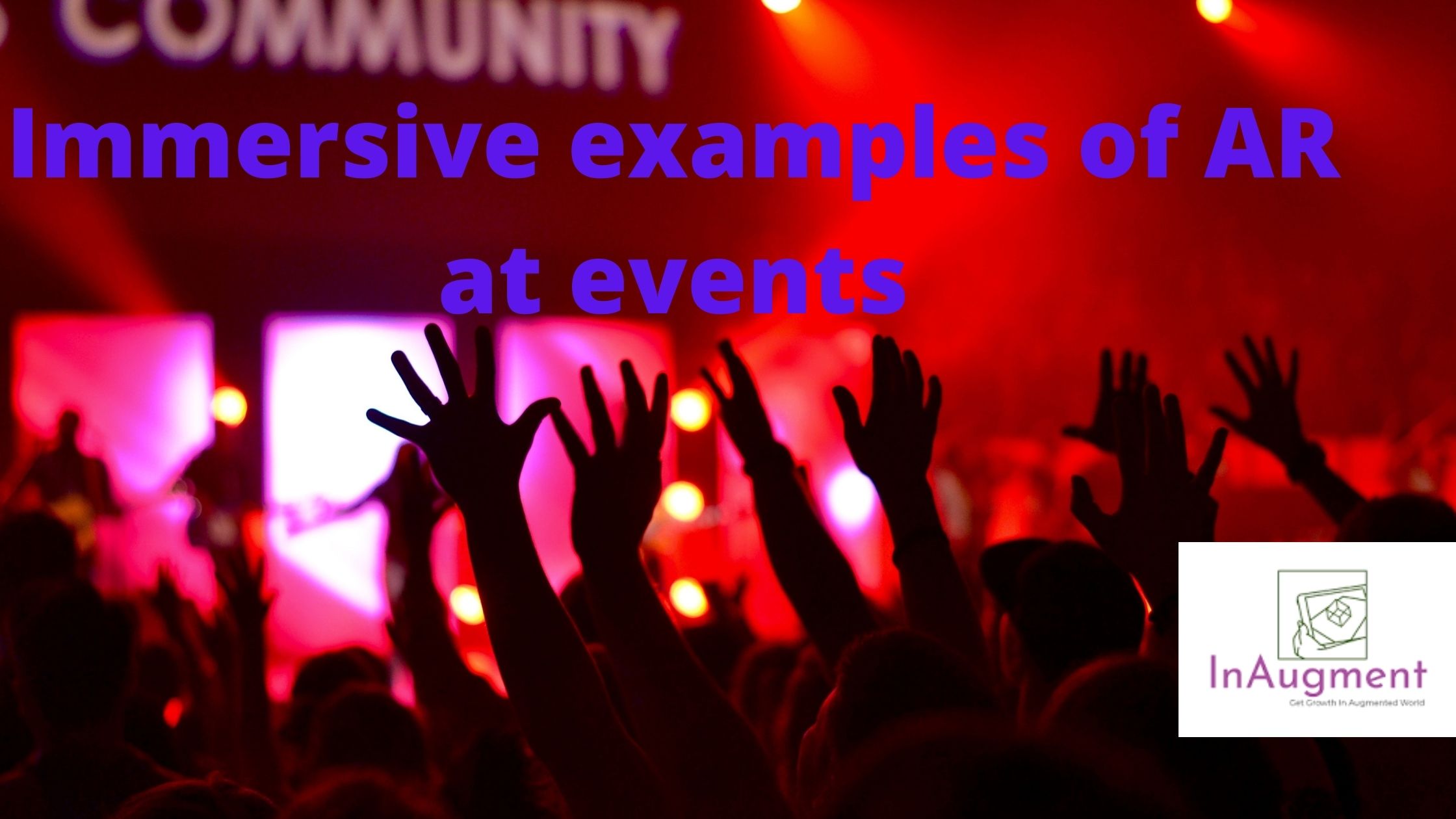 ·         One Plus Nord launch
OnePlus Nord launch was the World's first smartphone AR launch. The event had full attendee attention. The technology has captivated attendees' attention, enriching their experience.  The financial express says, "you will be able to follow the launch almost as if you are there and even experience the device, right from the comfort of your home, no matter where you are. You can have detailed information here.
·         Rio 2016  Olympic games:
During the sports event, people who were not able to make it to the ground could enjoy sports from home.  Wikitude brought AR to the Rio Olympic games held in Brazil. Rio 2016 Olympic game-integrated AR to give a real-like experience to viewers sitting at home.
·         Toyota:
Toyota has embraced Augmented Reality in its new automotive launch. Forbes says, "Saatchi and Saatchi, in partnership with Vertebrae, a company that creates AR experiences for the brand as a form of consumer engagement, is bringing it back to the forefront in a new immersive experience with Japanese auto manufacturer Toyota".
Interested enthusiasts can have a great experience of car launch at the comfort of their home. Interested buyers can have a 360-degree view of the vehicle and can make an informed decision. The technology is already paying off by boosting customers' engagement and spiking interest.
·         Maroon 5- live karaoke experience:
Augmented Reality is heavily being used to revamp the concert experience. Well, it has already started changing the way we feel in online concerts. Augmented Reality at concerts is used to boost audience management. Your favourite band – Maroon 5 – collaborated with Snapchat and Verizon to give an augmented experience to users. Here, the audience can sing along and gets the chance to film themselves. Such videos help in great marketing and create a sense of missing out on the fans not attending. This pushes them to book tickets for upcoming shows. Another amazing example of the use of Augmented Reality at events is the Irish U2 band. If it sounds exciting check out more here.
Event planners are caring about the Augmented Reality as it has the potential to change the way we see, experience and interact at digital events. You can put yourself in your pal's show and have alike experience.