AR Invaders | Augmented Reality Gaming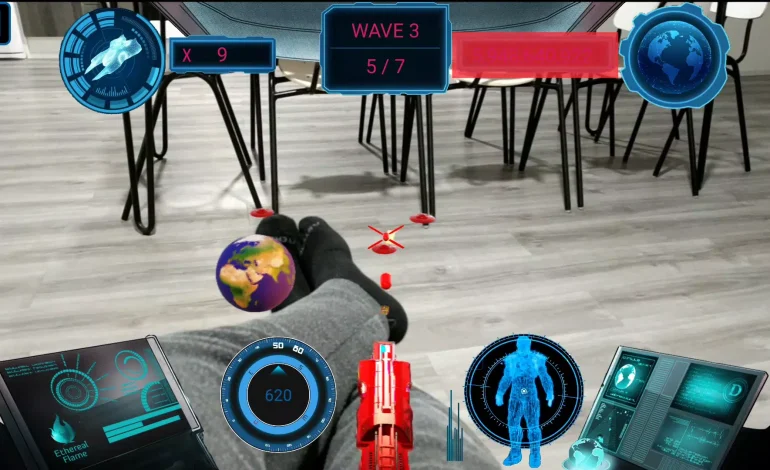 Those pesky aliens are at it again, invading our cities, forests, living rooms, and just about anything else they can. The last line of Earth's defense is you. God help us. AR Invaders and Look Up are two new games courtesy of Soulbit7 that bring the classic alien space invaders genre up to date with a fresh augmented reality feel. The game uses the tried and tested augmented reality formula of enabling the camera window so the action takes place in 360 around your surroundings. You can also team up with other members of the Earth's Resistance Forces (or your friends) to drive back the alien hordes.
Regardless of whether you decide to take on the aliens alone or with a friend, you'll need quick reflexes as the aliens don't hang about waiting for you to shoot them.
AR Invaders / Look Up in action 
You can demo for yourself by visiting the website. www.iptvcinema.it/tron Its in Italian but easy enough to figure out.
Look for Realta Aumentata and then Scopri la Realta aumentata the rest is obvious. To save yourself some time, you can print the marker from here. Just hold it up to your webcam.
Great augmented reality demos and lessons in Italian, what more do you need from a blog?
Cheers to Francesca for the heads-up. That's one form of augmented reality — the field is of course physically there but the lines are superimposed over it for us to see at home on the TV…To celebrate the launch of their platform String Labs recently released a showcase app free download on the that demonstrates several games and ideas which use Strings AR engine.
This isn't the first AR app on the store by a long shot but Strings play is a platform one not a one-off app or feature in an app…String aims to provide developers with the easiest-to-use and fastest augmented reality SDK on the market.
It's currently only available for developers but it will soon be ready for Android and other platforms. Generally, I think augmented reality is overblown and not all that helpful but the developers of Where To?