Augmented reality in daily life:10 ways AR will improve your life
Augmented Reality has reached your home, are you making the most of it or not? If yes, I am proud of your tech-savvy implementation of Augmented Reality in daily life. If no, I am excited to help you with the application. Augmented Reality has invaded my lifestyle and made it immersive. I studied the technology but didn't implement it in day to day life. I was missing out on the application. But when I started to implement it, I am so happy with the result that I had to share it with you. Get ready to paint your world with Augmented Reality technology and it will change your lives in ways beyond your imagination. Let's start:
Top 10 ways Augmented Reality will improve your life – Augmented Reality in daily life:
1.

Exercise:
Time and again we are reminded to keep ourselves fit and healthy. We start to exercise but slow down and stop putting in the effort gradually. We long to stay fit and healthy but lack in putting in the effort. Augmented Reality in daily life will help you to get up and hit it consistently. Augmented Reality adds the fun element to the whole process, pushing you to do more.
For example, Seek app encourages you to hunt treasures through exercise. You will have to sweat extensively to win. Some startups are working on making the exercise immersive and entertaining by integrating Augmented Reality. It becomes more interesting with the use of Augmented Reality wearable, you can see your progress live and workout accordingly. If you struggle to run daily, try Zombies Run. Zombies Run is a popular AR app, that tricks you to run for 5kms in order to escape zombies.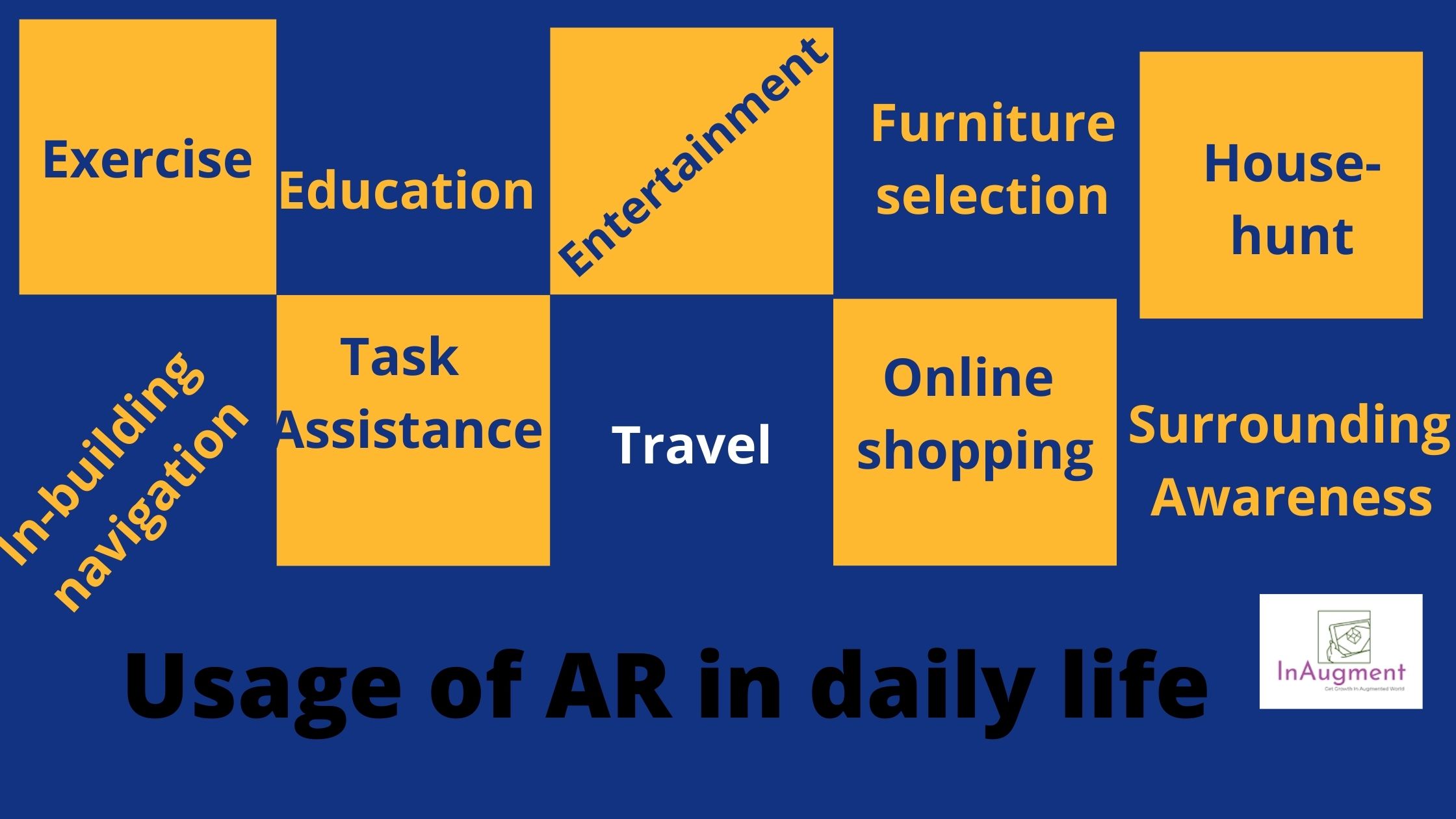 2.

Education:
Learning has never been more interactive before. Augmented Reality feeds you with concept-based learning. The use of Augmented Reality in daily life has revolutionised the education world on a large scale. Augmented classrooms during pandemic give a real-like feel. Here, are few amazing AR apps you can try out to enrich your self with knowledge. If you are interested in detailed insight, have a look at top educational Augmented Reality apps.
3.

Entertainment:
I enjoy watching any shows in 2D but Augmented Reality gives you a memorable experience. The set up helps to feel immersed in the ongoing scenes, which gives a real-like feel. Augmented Reality is everywhere in the entertainment industries from games to songs to movies. Do you love the Marvel series? AR is remarkably used in Captain America, know more here.
4.

Furniture selection:
If you are not happy with your existing set of furniture, consider using Augmented Reality in the next purchase. AR-based apps such as IKEA, make it easy to find the right set of furniture that matches the ambience and fits in the place. You just have to place your camera in a suitable space and the furniture will be placed there virtually. It also helps with selecting the apt dimensions. This is one of the best usages of Augmented Reality in daily life.
5.

House hunt:
House hunt is a tiresome and time-consuming process. The pandemic has made the process even tougher. If you do not have time to physically visit all the suggested properties, you can opt for Augmented Reality. Get in touch with Realtors who use AR-based real estate apps to show the property. Augmented Reality apps enable a 3D real-like view of the property. You can thoroughly view the property and then make a decision. This use of Augmented Reality in daily life saves time as well as money. Here is a detailed blog on the impact of Augmented Reality in real estate.
6.
In-building navigation:
We have google maps to show the right path to our destination. But, what about the maps for inside the buildings or infrastructure. Many a times it becomes difficult to locate the exact space inside Airport, malls, museums, etc. Augmented Reality will guide you inside the infrastructure and places. The maps of the place are fed in the application, when you search, it overlays the digital information.
7.

Task Assistance:
Augmented Reality is a saviour during home appliances failure. Our days and nights rely on mobiles, laptops and other appliances. System failure can cause heavy losses emotionally as well as financially. We rely on these devices to get in touch with our near and dear ones. The need for these devices is now more than ever. With the help of remote assistance, you can quickly fix the issue with the help of experts guidance through Augmented Reality. Here, is an example of how Rachel fixed her broadband issue.
8.

Travel and lifestyle:
Augmented Reality makes travel information-rich and fun. You do not have to worry about the hidden beauty at your destination, your hotel room look, etc. Augmented Reality helps to get a beforehand view. You can take a virtual tour of the room and then book it. The AR-based travel apps, fetch all attractive point along with information about the desired places. Wonderful use of Augmented Reality in daily life!
9.

Online shopping:
Online shopping has become a day to day thing. Today, we depend on online shopping more than ever. We love online shopping until the selection of dresses, jewellery or footwear confuses us. Augmented Reality offers a try-on solution. The try-on feature allows you to virtually try the product before purchasing. It has eliminated the lack of a trial room during shopping. The retail sector is a heavy user of Augmented Reality.
10.

Surrounding awareness:
Did you just show interest in getting aware of your surrounding and expanding the pool of knowledge? You are on a morning walk and you want to know the name of plants along the lane, has it ever happened to you? Well, the name of unknown species is just a tap away now. You just have to point the camera on it and the Google lens will fill you with the exact information.
Wrapping up:
In these tough times, technology is a blessing. Use Augmented Reality in daily life to smartly fill your life with happiness.