Believe it or not, Augmented Reality has been around you for decades now. Here, we have Amazon salon with Augmented Reality now. The visibility, popularity and awareness have increased in the past couple of years. In 2016, the Augmented Reality term became the go-to words for game enthusiast out there. Pokémon Go developed by Niantic inaugurated a new world of Augmented Reality. The possibility is limitless. Gradually technology expanded its uses cases and has stepped into an array of industries. I have been repeating and reminding you often about the contribution of big players like Google, Facebook, Apple in the Augmented Reality world. Today, let's dive deep and measure the steps of the largest eCommerce company – Amazon- in the Augmented Reality Kingdom.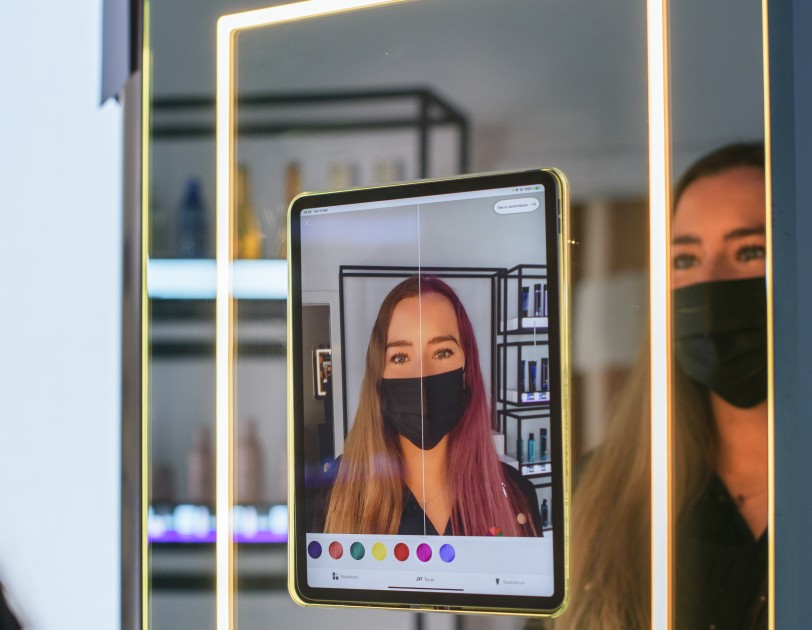 (source)- Amazon blog
Augmented Reality has a deep impact on the beauty and fashion industry. It has revamped the way we do online shopping. The Augmented Reality technology is useful in in-store shopping as well.
Amazon is the wizard in the eCommerce sector. The business model of Amazon allows it to experiment in other industries as well. Amazon introduced Amazon Prime for entertainment and Amazon academy for education. And, now Amazon has stepped into the Shopping and entertainment industry.
The objective of Amazon salon: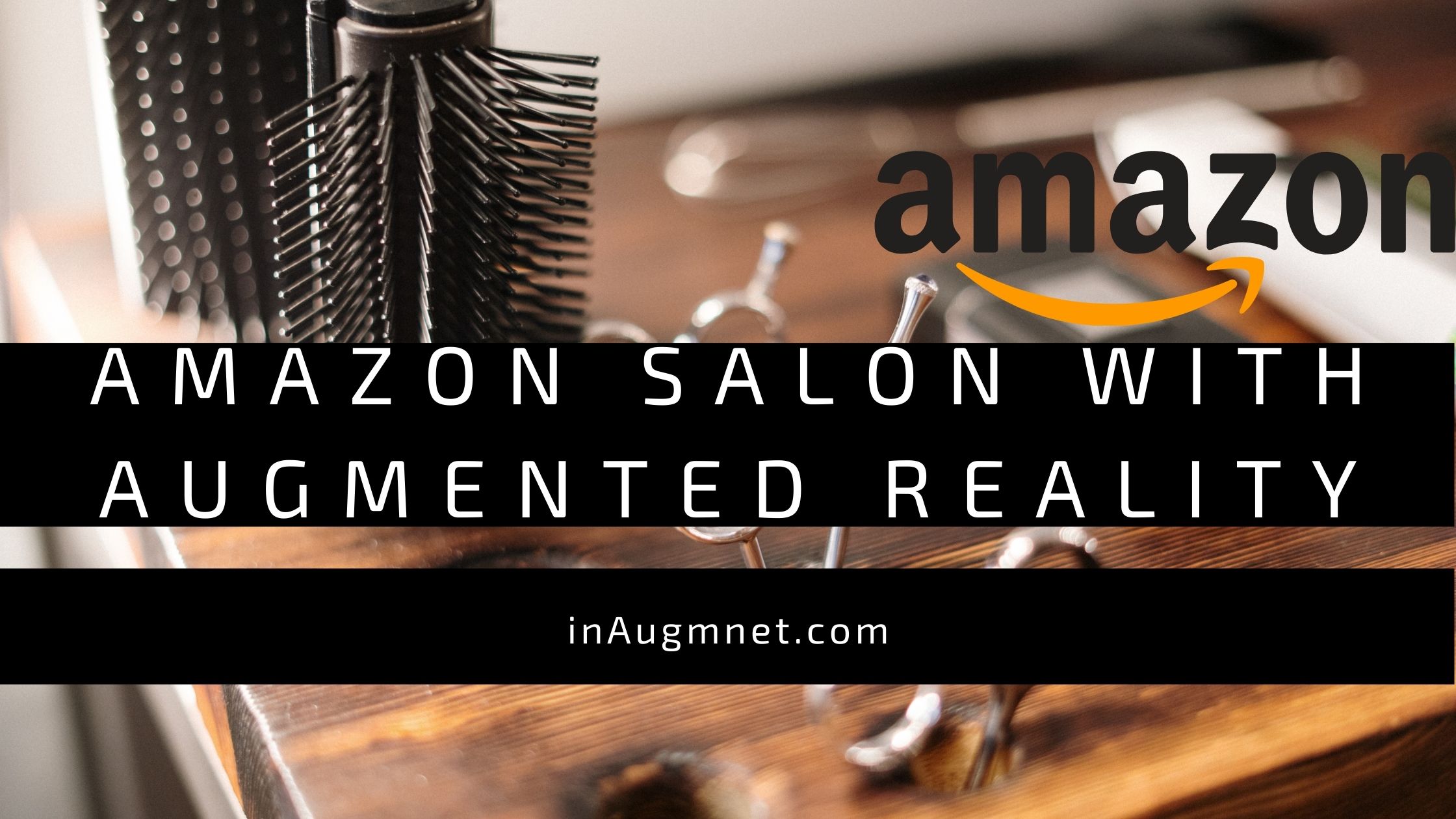 Amazon is up for experimenting with new technologies and enriching customer's experience. Amazon will launch a hair salon in London's East End Spitalfields area. It will use Augmented Reality to help customers choose the best hair colour shade on them. The motto of Amazon salon with Augmented Reality is to " try the latest industry technology" and introduce "point and learn technology" to customers. If you love to dye your hair, doesn't this sound interesting?
A revamped customer experience at Amazon salon
Technology either makes our life simpler, easier or fun and interesting. Amazon Salon with Augmented Reality aims to offer both kinds of experiences. You can quickly purchase the products available at Amazon salon just by scanning the QR code. Amazon is keen to offer fresh and intriguing customers' experience, which include:
·

Experiment with virtual hair colour:
Customers can test different colours on their hair virtually with the help of Augmented Reality. Amazon has hired experts to assist customers and help them in taking the best decision. Augmented Reality offers a real-like virtual image of your hair in the colour you prefer. This makes it easier to decide which colour will go with your look.
·

Entertainment on Fire tablets at Amazon Salon with Augmented Reality: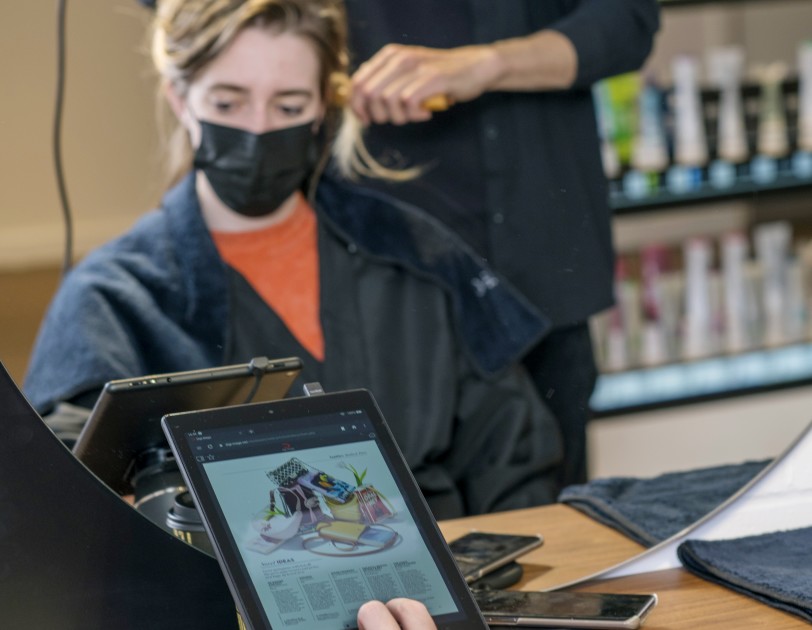 (source- Amazon blog)
Amazon is devoted to further enhance the user experience by allowing access to audios, videos, news, book, etc. The entertainment on fire tablets will keep users engaged. The fire tablets will be available at each styling station. Customers can have a good time while the styling process.
·

Can capture the new look:
This is interesting, but it raises few questions as well. Will the image captured be collected by Amazon? What will Amazon do with these data further? Though Amazon has declined to collect customer's data generated through AR experience but is quiet about the non-persons data collecting.
·

A fresh purchasing experience: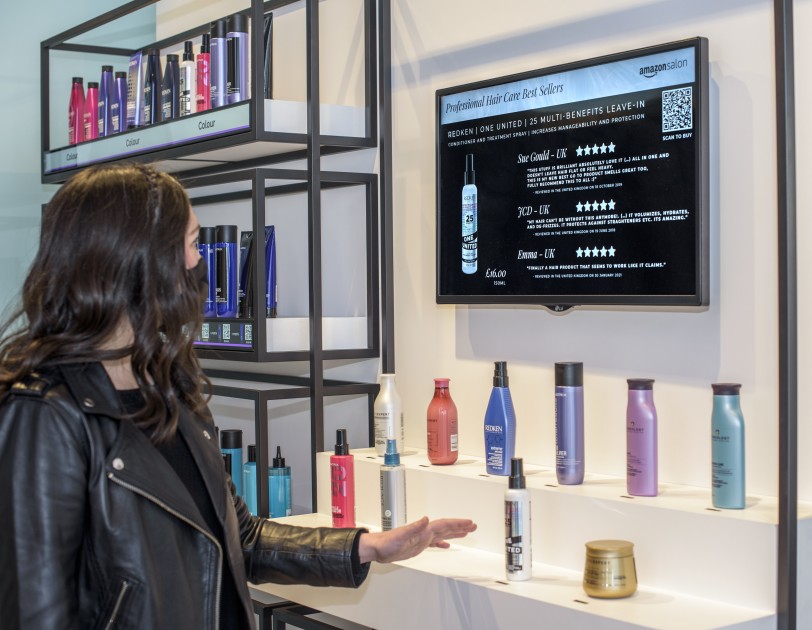 (source-Amazon blog)
Along with Amazon Salon, the company simultaneously introduces " Point and learn technology" to customers. This fresh purchase experience will make the shopping easier and will help in increasing the store product revenue. Customers will just have to point to the ranges of beauty products – all from the professional brand -available at the store. Amazon will display the information about the product in the form of graphics, audio and video. Customers can know the usage of products, their manufacturing, etc. It further eases the purchasing by allowing customers to order the product just by scanning the QR code. The QR code will be present on the display.
As soon as a customer will scan the QR code, the product will pop on the Amazon online store from where the user can buy. The product will directly reach their home. Isn't this a fresh purchase experience?
The test and trial period:
Amazon says, it has no intention to open the store at any other location. Amazon has set up Amazon Salon with Augmented Reality exclusively for London customers. The store in the initial period will be open only for Amazon employees. After the test and trial, customers will be welcomed at the Amazon salon.
Why on earth did Amazon take this initiative?
Amazon took this initiative to experiment with the latest technology. For now, the target audience is the public. Later on, the ultimate customers will be businesses involved in the beauty industry.
List of hair and beauty services Amazon Salon will offer?
Amazon salon is interested in offering a range of hair and beauty services. The service is open for customers of any age. The target audience is adults and Children. Amazon has recruited Elena Lavagni, for Haircare and styling services. She has more than two decades of experience in this field and aims to put clients at the heart of everything. Elena Lavagni, owner of Neville Hair and Beauty says, " I am delighted to be a part of this project – the salon combines classic hairdressing services with technology to deliver a completely unique experience for clients. Our creative team of stylists, whose flair for hair is as intrinsic as their love for technology, will put the client at the heart of everything they do. I feel proud to use our 40 years experience in the industry to help bring this salon to life".
Hair and beauty services that Amazon salon with Augmented Reality will offer include the following: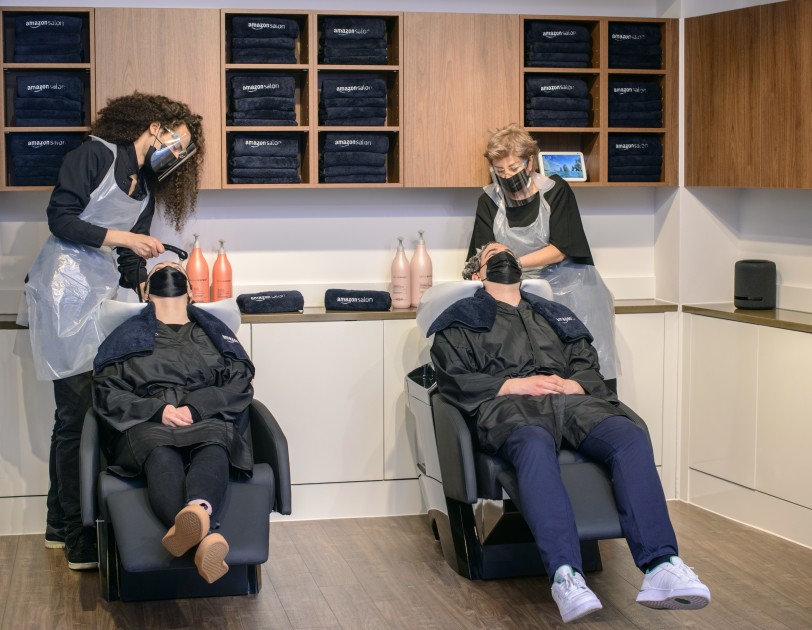 (source- Amazon blog)
Texturizer treatment (Hair professionals will help customers to loosen up the curls for easy combing ), Balayage, Cut and blow-dry, full-head highlights and braids.
What do you expect?
Does this showcase the company's interest in entering into the beauty and hair industry – A marketing experiment? Or, do you think the store is just a medium to experiment with the latest technology? My research pushes me to go with the former.
Amazon's love for technology is immense. This is not the first time Amazon is experimenting, the previous project aimed for cashier-less payment called payment one.
Reference: https://blog.aboutamazon.co.uk/shopping-and-entertainment/introducing-amazon-salon
Does Your Business Need The Pinch Of Augmented Reality?
Get Growth In Augmented Reality World

Our vision is to make augmented reality reachable and achievable to small businesses globally.