How AR in retail is impacting the retail industry?
Technology is an ever-changing and ever-evolving field. AR in retail is currently the buzzing topic. Every now and then new innovations are introduced in the market. Among those new innovations, some have the potential to mark disruptive changes in different fields. Augmented Reality is one such highly powerful innovation that is meant to reshape different industries. For an amateur, let us begin with:
What is Augmented Reality?
Augmented Reality abbreviated as AR is the next-gen technologies that superimpose artificial objects in a real environment. It introduces visual elements, sound elements an graphics, sensory projects in the real world. AR aims to enrich user-experience and provides engaging and immersive content.  The AR market is growing tremendously each passing day, with no signs of signing off. It is predicted that by 2023 the market value is estimated to reach $61.4 billion. We have crosses the era where AR was just limited to games like Pokemon Go and fun filters like Snapchat. AR has stepped-in in almost all industries from healthcare, logistic, gaming, marketing, education to retail. Here, we will be signing in on the impacts of AR in the retail industry.
Augmented Reality and the retail industry:  Some facts and surveys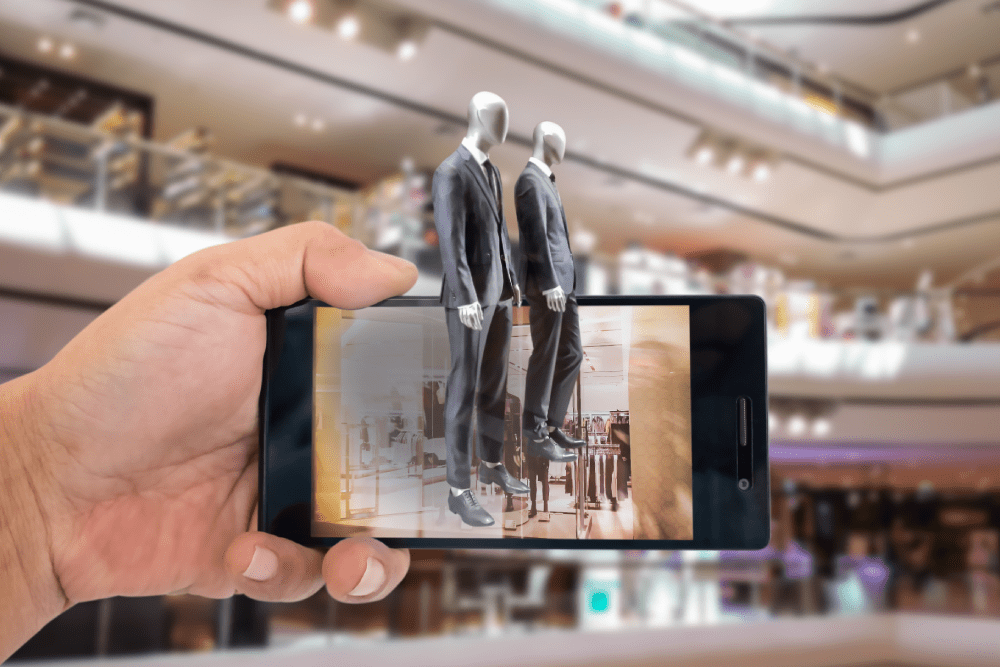 Augmented reality is all set to bring disruptive changes in the retail industry. According to the survey ", 32% of shoppers are regular users of AR, and 73% of smartphone AR users are highly contented with the experiences".  " And 75% of consumers now expect retailers to offer an augmented reality experience."
" AR market size, which was of USD 67.5 million in 2019, is anticipated to reach USD 1848.9 million in 2025 with a CAGR of 28.6%,
You might be curious to know the customer's perspective of AR in marketing? Well, as per "salesforce research 75% of customers expect new technologies for better experiences. And 84% of customers believe the experience is just as important as the product itself".
Now let us have a glimpse of the USA AR retail survey " 72% of customers purchased items they didn't plan to buy because of AR." "61% preferred stores with AR experiences". So, this clearly infers the increasing craze of AR in retail. Customers enjoy the immersive experience provided by AR.
Augmented reality in the retail market:
With the increasing use of the internet, online shopping has spiked up. The increasing inclination towards digital space is giving a much-needed boost to AR. It is driving retailers to adopt Augmented Reality. The vision of AR is to cover a huge share of the retail market by 2025. Applications are one of the best mediums to drive AR in the retail market.
How AR is impacting the retail industry?
AR is curving the working of the retail industry. It has provided ample of new ways over traditional retail marketing. The growth of this great technology is furthermore making the complex process easier. Though the backbone behind this exponential growth is an inclination towards online purchasing. AR has clearly made shopping easier and more fun. AR in retail has streamlined the entire process.  Have a look at different ways in which AR is impacting the retail industry:
Image source:https://www.rishabhsoft.com/blog/augmented-reality-ecommerce-benefits
      Increase Brand and Product Exposure: AR is one of the best technology to increase brand awareness. Customers are raising the bars of applications. The market is flooded with companies, it is high time to create a unique identity. AR has been giving that much-needed edge to the retail industry. AR in retail offers lots of ingenious ways to retail marketing strategist.
      Advanced trials: It's quite tiresome and annoying to wait for your turn outside trial rooms. Do you want to have a trial without standing in a queue? Well, Augmented reality in retails helps you with the setup. Virtual mirrors help you to find the products of your taste and digital screen helps in trials. Augmented Reality has amazingly transformed the retail industry.
      Virtually look at 3D products at home: This is one of the best ways in which AR is going to hugely impact the retail industry. Sometimes while imagining products in-store for the home we are not able to imagine the exact view. AR in retail has brought better solutions for us. AR allows visualizing the product in your home. You can change the color, texture, designs, and select the product that suits them best.
    Scan and Collect in-store information: Nowadays due to lots of options available at the doorstep, users search for similar products compares prices, and then settle for the best. An app will help to scan the signs in-store and navigate product information. AR effectively plays the role of a bridge here. It fills the gap between online and offline shopping.
Some prominent examples of Augmenter Reality retail use cases:
      Magnolia market with Shopify's AR team: This gives users the flexibility to know how the product will exactly look in their home. Now, you can more specifically decide whether the product matches the existing décor or not or whether the size aptly will fit in the place or not. You can also share images with your friends and ask for views. AR in retail is set for giving rich experience.
  Macy's Augmented Reality Furniture App: This application works on cloud-based API and is available only for iOS apps. Here, the "view in my room"  button is available where you can exactly visualize the furniture after virtually placing it in your room.
    Dangle AR: This is an example of Augmented Reality in Jewelry shopping. You can visualize earrings through Dangle Augmented Reality. Through a video, you get to put on the earrings virtually and move in a realistic way and then finalize the product. It gives personalized suggestions as per your taste.
Wrapping up:
Augmented Reality has entered the domain and given a transformative look. News featured AR as the future of the retail industry. AR in retail has the potential to engage and convert lookers into buyers in the shopping industry. Augmented Reality in the retail industry is changing the entire landscape. The retail industry is changing at a great pace, AR is giving that much-needed boost. Consumers as well as retailers are showing interest in adopting augmented Reality in the retail industry. Augmented Reality is hence gloriously making its way in multiple retail sectors. To know more about new modifications in AR, you can have a look at this article Web AR Vs Mobile AR.